#207 Expatriation, identity loss and the art of self-reinvention, with Nicole Webb
Like it or not, our identity are oftentimes inextricably linked to what we do as our profession, and as someone who previously worked outside the home, China's supporting expat spouses find themselves struggling when that bit of our lives is suddenly stripped away. That apparent loss of identity, mixed with culture shock, and adjustment challenges, can throw supporting spouses off kilter. My guest on this show, Nicole Webb, is no stranger to the process of identity loss. In her mid-thirties, Nicole was at the top of her game as a news reader for a prominent Australian news channel. The idea of going abroad had no appeal; yet almost six years and two assignments later, Nicole has successfully reinvented herself, created a business that's mobile and is excited about the possibility of future assignments. What hurdles did she have to climb over and how did she manage to find herself and settle into a brand new skin? Tune in to find out!
Losing that part of yourself, that piece of identity, and then to lose the camaraderie at work—it's lonely!
Connect with Nicole
Learn more about Nicole: A former News Reader with Sky News Australia, in 2010, Nicole decided it was time to do that thing called 'Carpe Diem' and step outside the box (literally)! With her hotelier husband and bump, she took a whole lot of deep breaths and moved from Sydney to the City that Never Sleeps, Hong Kong! Surviving and thriving on expat life, after four years it was time to take their second posting, in deep dark China. The trio teamed up with those blokes they call the Terracotta Warriors and has been navigating life in Xi'an for the last 20 months. Life's never dull and when Nicole's not telling all on her critically acclaimed blog Mint Mocha Musings: The Hotelier's Wife, An Expat Affair in Asia, she works as a freelance journalist, writer, editor, presenter, media trainer and MC. Nicole's also in the early stages of writing a book on life in China.
Blog: http://www.mintmochamusings.com
Facebook: http://www.facebook.com/mintmochamusings
Twitter: https://twitter.com/nicoledwebb
Instagram: https://www.instagram.com/mintmochamusings/
Episode sponsor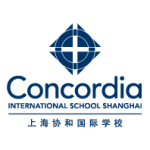 Academic excellence, unlikely opportunity and vibrant community—right in your own backyard. Concordia International School Shanghai. You belong here.