#138 Savor street food like a local with Jamie Barys
What is one of my all time favorite things about living in China? Hands down… the food! With the multitudes of complex ingredients and flavors, tasting some of China's finest cuisines is simply par for the course if you're going to do China right… at least, it is if you're like me and serious foodie Jamie Barys of UnTour Shanghai and the

Glutton Guides

. For this episode, I sat with Jamie and learned her inspiring journey from the corporate world into her entrepreneurial dream where her passion paired perfectly with the expertise of her business partner, Kyle Long.
I had a horrible food experience when I first came to China and I just knew that other people didn't need to experience the same thing—hence, Untour Shanghai food tours were born!
In this episode
A glimpse into Jamie's journey from the corporate world to the entrepreneurial
The #1 reason people get sick off of street food, and the simple way to avoid it
9 practical tips so you can chow on local favorites safely
Jamie's 5 TOP local street food vendors in Shanghai [Download this list with maps!]
Connect with Jamie
Email Jamie at jamie@untourshanghai.com!
Episode sponsor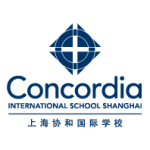 Academic excellence, unlikely opportunity and vibrant community—right in your own backyard. Concordia International School Shanghai. You belong here.