#326 New Year's Resolutions: Making a plan that works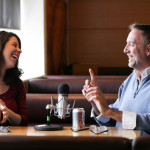 'Tis the season for grand expectations to arise for the new year. Have you thought of what you want out of 2017? What if there was a way to make your goals and dreams a reality? In this show, Pete and Ally engage in a dialogue that ignites Ally's passion for living an intentional life. Tune in to learn how!
Connect with Ally and Pete

Connect with Ally at ally@limitlesslaowai.com and Pete at pete@limitlesslaowai.com.
Episode sponsors
A special thanks to this show's sponsors, Concordia International School Shanghai. Discover more at www.concordiashanghai.org.
What'd you think of this show? Send comments, questions and feedback to the hosts at ally@limitlesslaowai.com and pete@limitlesslaowai.com.