#234 An Entrepreneurial Story Inspiring Greener Living with Kim Gilliland of Soapnut Republic
I'm always inspired by people who take a leap of faith to follow their convictions and fill a need in people's lives. Be it in giving time or other precious resources to do so, or filling a need in the market, following our hearts isn't always the easiest thing to do and perhaps it's the courage that I admire so much. My guest on this show, Kim Gilliland is the co-owner of Soapnut Republic, an award-winning business that offers an extensive line of non-toxic, biodegradable, allergen free household cleaning products to the China and Hong Kong markets. An advocate for going toxin-free in ALL areas of life, I loved sitting with a kindred spirit and digging into her entrepreneurial journey. Tune in to hear how Kim and her husband and business partner got going with Soapnut Republic, strategies for their success in both the expat and local markets as well as what's really at stake when we choose to clean with toxic materials in our homes.
Connect with Kim
Connect with Kim online at soapnutrepublichk.com.
Episode sponsor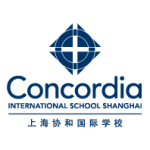 Academic excellence, unlikely opportunity and vibrant community—right in your own backyard. Concordia International School Shanghai. You belong here.