#216 Real life: Aussie in Shanghai, with Cidonie Richards
So there are a lot, a lot of foreigners in China, and much of what we do at Limitless is try to bridge the gap between our cultures and the local Chinese. But, it's ridiculous to think that each of our individual foreign cultures would handle transition into life and work in China the same (even cultural differences between households will play its part, but that's a whole different podcast…)! Let's drill down a bit deeper and see if we can't get more specific insight from cultures similar to your own. For this show, Ally interviewed Cidonie Richards, Editor in Chief of Ringier China. Originally from Australia, Cidonie argues that Aussies typically handle the transition into China quite well, and over the course of our interview she shares insights into why she chose the schools she did, what was challenging about moving abroad, how she and her kids handled the transition and what life is like for her in Shanghai. Tune in to here an Aussie's view on life abroad.
The sky is the limit.
Episode sponsor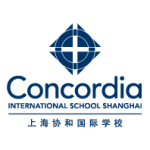 Academic excellence, unlikely opportunity and vibrant community—right in your own backyard. Concordia International School Shanghai. You belong here.