#166 [Best of '15] Being a good guest in a foreign home with Evelyn Sun
What a spectacular year! I'm so grateful I got to spend it serving you and thousands of other listeners around the world! As we round out 2015, I'm leaving you with the Best of the Best shows from the year. If you missed these 'chart toppers' the first time around, make sure you don't miss them again and tune in to be motivated, empowered and inspired by these incredible guests. I wish you a very Merry Christmas, Happy Holidays and a Happy New Year! May you be unbelievably blessed in 2016!

Evelyn was raised in Taiwan and spent 6 years in the US. She has been in China for 14 years with her husband Gary and two sons Andrew who is attending college in the US and Bryan who is a junior at Western Academy of Beijing. She has been a full-time mother since the birth of her first son but used to work a variety of jobs from an architectural design assistant, to a music teacher for the Yamaha Music Institute and even as a China Airlines flight attendant. Evelyn is a woman of many talents! I first met Evelyn 6 years ago when we moved to Shanghai and she is truly one of the kindest, most selfless people I know. If you're in Beijing and you're looking for community, please connect with Evelyn after today's show. She'll be just the dose of positivity you need!
This could be the best experience of your life.
Episode Links
Connecting with Evelyn
Email her at evysun64@hotmail.com or find her on Facebook
Episode sponsor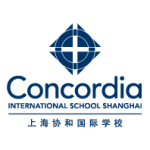 Academic excellence, unlikely opportunity and vibrant community—right in your own backyard. Concordia International School Shanghai. You belong here.