#210 China life, unscripted with 3GingerSisters, Reece, Maddy & Cam Caddell
Not every student who lives abroad spends their time doing the traditional sort of kid things. This is certainly true for the Caddell sisters who chose to say 'yes' to a move to Shanghai for a short 7-month stint. Nine-year-old Reece, 13-year-old Maddy, and 16-year-old Cam are well-acquainted with media and as You-tubers and actors themselves, they've enjoyed stretching their creative muscles in a different land and on a different sort of canvas while they've been in China. These young women are goal-oriented, career minded and just plain fun to be around. Want to hear their take on life abroad? Stick around to find out!
It's been an experience like none other. If we had the opportunity to do it again, we would in a heartbeat.
Connect with the sisters
Connect with the girls on any social media channel by searching for 3GingerSisters. Watch them on YouTube atwww.youtube.com/3gingersisters.
Episode sponsor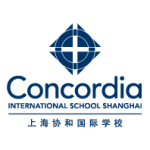 Academic excellence, unlikely opportunity and vibrant community—right in your own backyard. Concordia International School Shanghai. You belong here.