#149 What the Chinese want in a leader with Morry Morgan
If you had to brainstorm a list of the qualities you believe to be most sought after in leadership by Chinese employees, what would you include? How about responsible? Motivational? Caring? Powerful? How might you rank them? I sat with Morry Morgan, co-founder of ClarkMorgan, and learned about a fascinating survey they conducted all around China to dig to the foundation of this question: What qualities are most valued in leadership in China? The answers may surprise you! Tune in to hear the top 10 list and see how it compares to the same question asked of Australian leaders.
The research is clear—Chinese employees need their leaders to be caring, compassionate and powerful all at the same time.
In this episode
The top 10 qualities Chinese are looking for in their leadership
How a great leadership style equates to great parenting or a great teacher to the Chinese
A comparison of how Australian business leaders ranked these top 10 qualities
How and why it's important to adapt a Western style of management to your local organization
Connect with Morry
Here's his LinkedIn profile: https://cn.linkedin.com/in/morrymorgan

Episode sponsor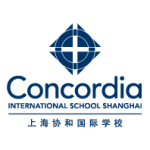 Academic excellence, unlikely opportunity and vibrant community—right in your own backyard. Concordia International School Shanghai. You belong here.